Rtn PHF Shrinivasa Shettigar
Though the Barkur-on line team members scattered at distant places, it was a Sunday evening of 13/01/2007, luckily few of us were together – viz. our host Kishore Gonsalves, Eric Soans, Dr Manoj D'Lima…… after watching  the valedictory  ceremony  - children's literary conference at NJC auditorium, fortunate to meet a rare personality in Srinivasa Shettigar. His newly acquired Scorpio jeep had enough space to accommodate all of us and drive straight to his site / factory / office / residence - all in one, located at a serene surrounding at Rangana Kere.
SRINIVASA SHETTIGAR – a model businessman and a social worker.
SRINIVASA SHETTIGAR – a model businessman and a social worker.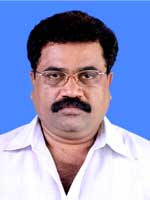 Concrete Jungle! No, it is an 'Art laboratory called 'Shettigar Industries':
Construction activities a never ending story, on a daily basis, cost of major  ingredients and raw material like stones, sand, cement, steel, wood etc is sky-rocketing. Apart from good wood, Carpenters wages, their shortage also a problem. Here comes the search for alternatives and a substitute for wooden furniture, in concrete molded frames, specially windows, door frames, and in-built almera, pillars, which are cheaper by 1/3 in comparison with wood, here strongly, recommends and vouch Shri. Shettigar.
On the other side, we were shown, artifacts of decorative statues of birds – swans, ducks, peacock, animals - elephants, lions, rabbits, flower pots, very specially Tulasi Katte, of different sizes, elegant and graceful, with bright colors, so synonimous with every Hindu house hold is manufactured over here, catch the attention of every viewer. These are heat and water resistant and last for a longer period, in an open ground if one maintain the same with routine painting.
Luxury and grand attractions, like flower pots and planters, gate posts, garden ornaments and sculptors, one normally find in films and bungalows, are given birth here, and are in exhibition and  at first sight one feel like touching and surely tempt anyone to own them. Good number of ready made interior decoration pieces, garden bench and pond fountains to enhance the look and beauty of lawn or landscape garden also produced here. Carvings, clarity and finishing so lively and perfect, unless touched one can not make out whether it is wood, marble or concrete!
Fleet of transport vehicles, ready to deliver to one's door steps, and scores of artisans engaged and concentrating in their allotted segments, laborers both skilled and helpers mostly youngsters, but a large smile on their faces even after a tiresome days work, all in all - creativity and life in each and every corner of this estate surprised us.. Staff recreation such as canteen / mess facilities, prayers and rest house also visibly noticed by any visitor. Both master and mastermind behind all these enterprise, is a simple man dressed in simple shirt and trousers is Shri Sreenivasa Shettigar.
A self made man:
Energetic, Shettigar an up-coming young entrepreneur, a perfect example – a man an architect of one's own fortune, but believes in that there is no short cut other than hard work. Had his primary education at National Higher Primary School, Hanehalli.
Born in a middle class family, as the eldest son of Yellu & Meena Shettigar's four children, though ambitious, was pulled down, by the economical pressures, first took the job of a rickshaw driver to support the family.
Always active and learning from the surroundings, got attracted by the building materials industry. Few steel blocks and better to do well than say well, Shettigar himself innovated that, there is a big scope in concrete furniture industry, in this area, started working day in and day out and by sheer hard work established 'Shettigar Industries'. He got a magical hand, whatever he touches or designs either become an art piece or get a ready market.
One more secret of Mr. Shettigar business is, he keeps low margin but earn in volume, in other words he wants to reach to masses and had an intention to spread the merits of low cost concrete furniture, that too among low income strata of our society.
Family and social involvement:
Living with wife, Yashodha, younger son Akshaya and elder daughter Pavitra Shettigar who also a talented student at Shri Vidyesha Vidyamanya National English Medium High School passed in distinction in her SSLC this year. It is really a misfortune of the family as they lost one son Ganesha in a water tragedy on that cruel day few years back. Trauma and agony shattered the couple to a great extent, now seeing their own child in other children's well being. Almost all Schools in the locality, in the form of uniforms, books, stationery etc. are the monetary beneficiaries of the Shettigar Family largesse, as they are generous sponsors and contributors for any public event big and small, involving mainly children.
'Annual Ganeshotsava' is yet another event Shettigar household celebrates with pomp and splendor. A permanent stage / pendal are erected for the purpose. Week long religious, socio-cultural events are organized, since few years.
Honors and recognition: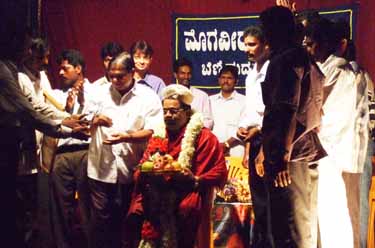 Innumerable organizations, Govt. authorities, Educational Institutions, Socio-religious bodies in the District and the State recognized the service, success and achievements of Shettigar. His living room is full of trophies, citations, titles and mementos. Shawls and garlands, different types of headgears offered to him in public are in heap. A few he remembers but most of others one in the countless!
Crowning glory of Shettigar at this young age can be evaluated as he was the recipient of National Award for Small scale Industry, from the hands of Hon. State Union Minister for Planning, M.V.Raja Shekaran.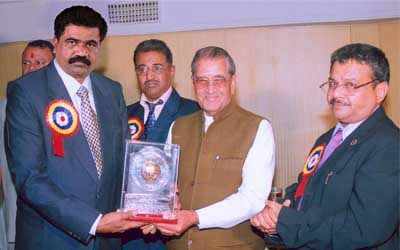 Rotary Club of Barkur:
Srineevasa Shettigar served as President of Rotary Club of Barkur unit and instrumental in mobilizing funds and resources for public utility projects in the town. We don't want to elaborate, but wish to go on record to state that, it is during his time at the helm, the unit was rated as Best Unit, Best President and as many as 23 Certificates of Recognition…………….
The man embraced simplicity in total in every inch of his dealings, had lot of pleasant surprises for us –
Shettigar was explaining us the various processes to ensure both quality and strength, in the yard, his mobile was ringing every now and then, from customers, dealers, suppliers and so on…and  the handling of each such phone was astonishing – his simplicity, concern for his workmen, and persuasive  skills un-match able to a management wizard. Even on a Sunday he is terribly occupied but have time for everyone and every occasion small or big. On our way back, two customers has arrived by a rickshaw, there were some sub-ordinates, to attend their requirements, moreover  Shettigar well aware or guessing it to be a small order, hardly afford to neglect him. He stopped the vehicle, enquired and only on their satisfaction, he dropped us back to NJC, where at Rotary Bhuvan, and members were waiting to commence their scheduled meeting.  We feel, because of these great qualities, today, Mr. Shettingar is a big brand name at natives.
Today he has given employment to almost 100 people directly….. and indirectly many were the beneficiaries. His achievement is a motivation to youngsters to come up in life. He set an example to contemporaries by sharing a substantial part of the fruits of business and wealth, with needy and down trodden, especially poor children.
We at 'Barkur-on-line' recognize Shettigar's contribution to the society at large and honor him as 'Personality of Month' and wish him all success in his business, to grow in strength to strength, in size and volume, so that many more derive benefits. Fortune is easily found, but hard to be kept, and we are sure Almighty always helps who help himself first, and here is a proof. We heard honors change manners, but Mr. Shettigar is as a person same yesterday, same today and will surely remain simple and humble Shettigar, tomorrow. Lastly, when we asked - what is your biggest achievement and his message to our readers – 'self-praise is no recommendation, but much or best yet to be done…..!
On behalf of Barkur –on-line Team and ICYM Barkur Ex-Members Association,
P. Archibald Furtado, Muscat – 11/05/2008.