POM Shri B. Chooda Poojari
A great teacher of yester years, in Maryknoll School, Barkur:
Shri. B. Chooda Poojary.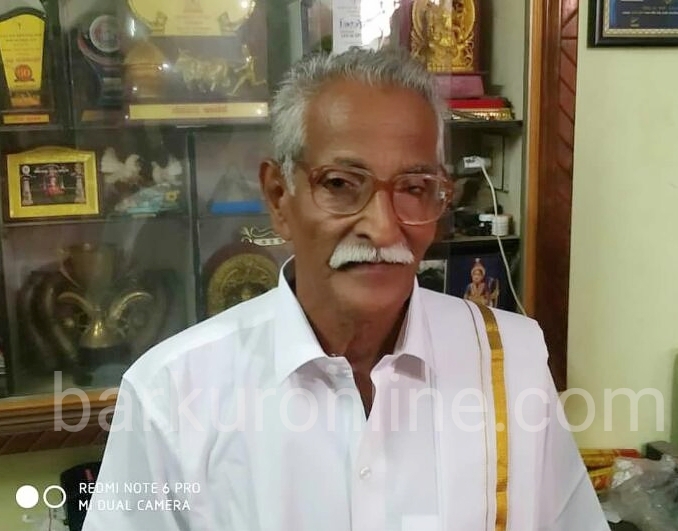 A tall gentleman with handsome looks, gifted with that manly and commanding voice in our town Barkur for last five decades and that too 40 odd years as a Teacher in Maryknoll Higher Primary School, Hosala Barkur, was / is, our beloved Shri. Chooda Master – an attractive personality, no one can afford to forget in lifetime, especially the student's fraternity taught by him….!
The name synonymous with the history of MHPS, who was / is a rare, distinct and proud witness and actively involved, in the celebrations of its Silver Jubilee - 1965, Ruby – 1980, Golden - 1990, Diamond - 2000, as a teacher and recently participated in its Platinum Jubilee Celebrations – 2015, as a long serving Sir of this School, was born on 1st June, 1944, as the third son of Late Rama and Mairy Poojary in Barkur. After his primary education, completed his SSLC from 'National Higher Secondary School', in the year, 1962. He was privileged to be taught by great teachers in PN. Bhoja Rao, HM, and as he respectfully remembers Late JRM Picardo, a genius as his mentor….. Chooda a mathematics prodigy from childhood days always used to be first in the class and many a times scored perfectly i.e. 100/100.
As once shared by Mr. Picardo himself, hardworking  Chooda most of the days coming to High School directly from the paddy fields, barefoot, even after washing several times, some marks of soil were visible, he used to teach Mathematics for SSLC and here Chooda was his favorite….!! And sharing English syllabus with HM PN Bhoja Rao, where Chooda was finding it difficult to cope up, occupied with agriculture related work at home, whatever taught in the School was retained and passed SSLC with flying colors, which fetched him a seat in Teachers Training College. As a Trained Teacher, on his first and probably the last interview, in front of the 'Selection Committee' comprising, Rev. Fr. Aloysius Rozario then PP and Fr. Bernard D'Souza, his assistant, Jacky Victor Dias, the HM and his teacher in High School, JRM Picardo, saw great potentials in this charming youth and appointed him, in 1963 as a teacher in MHPS to herald a new era in the progress card of the School and most importantly in the life of hundreds of his students……and from here, no looking back…till he retired from here in 2002…..!!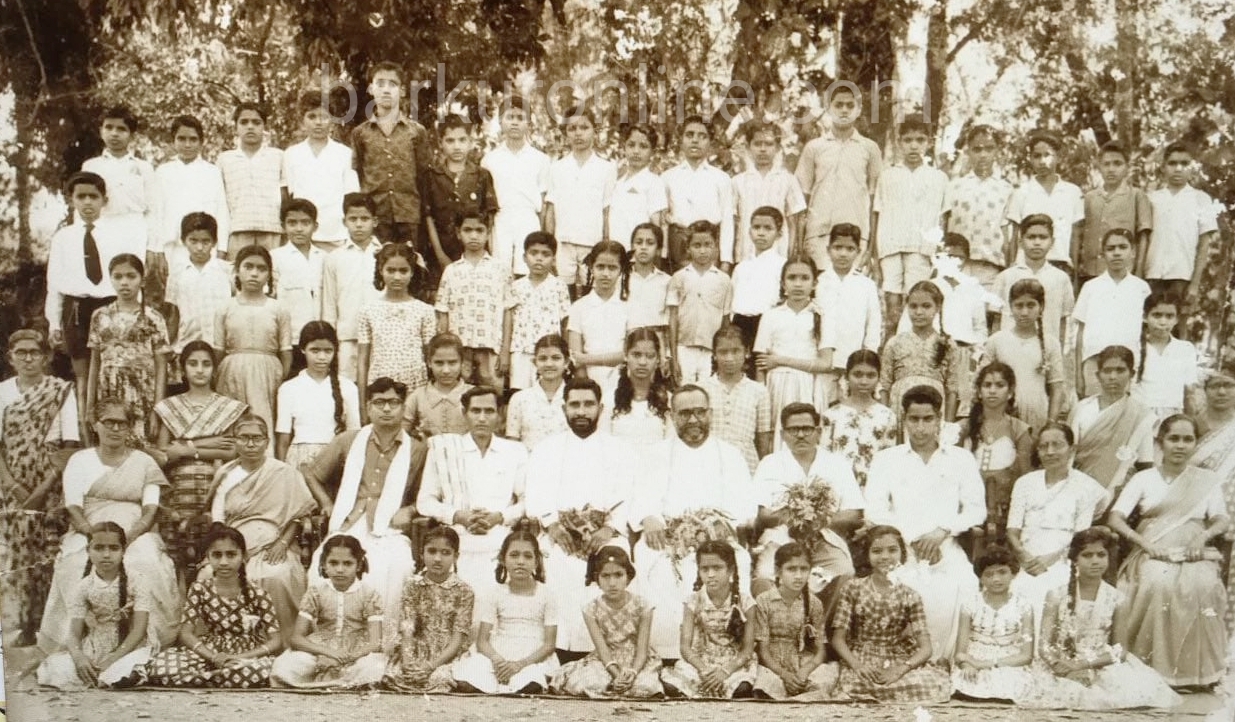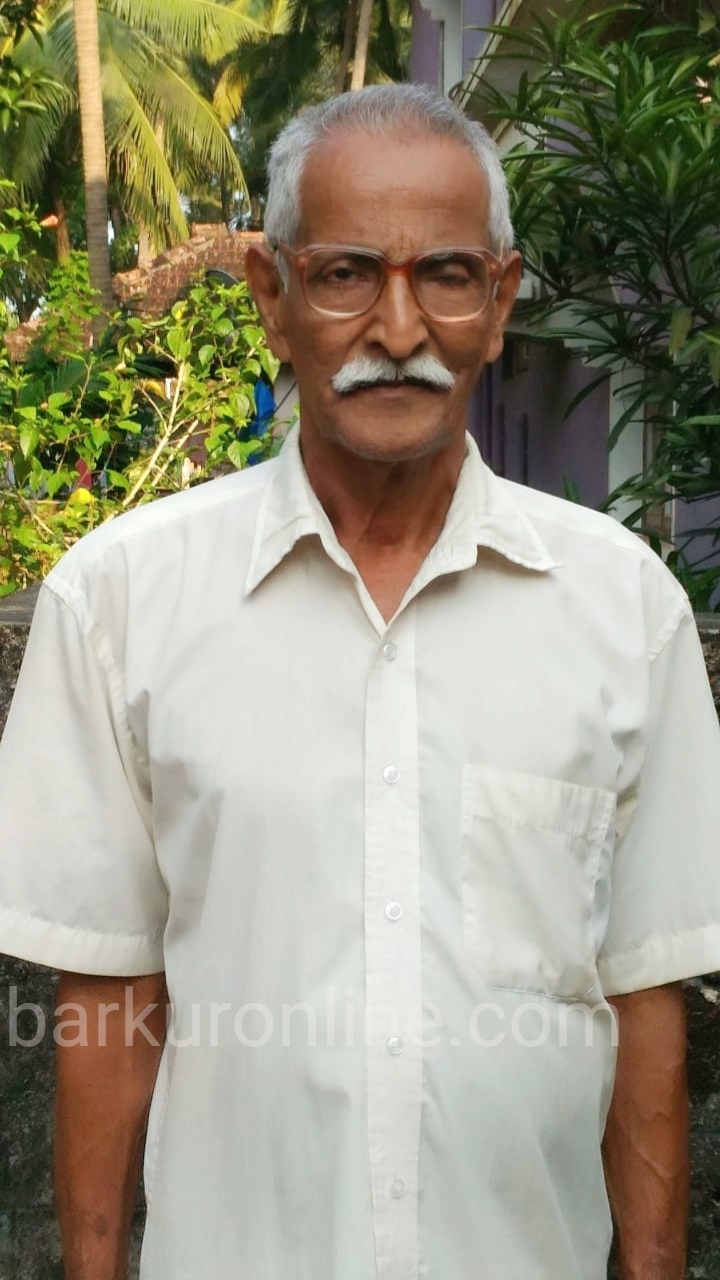 As a qualified  teacher at just 19, he joined Maryknoll School, on 11th November, 1963, assigned to handle  Class V, wherein there were few of his age, friends, still struggling……Later in the year 1966, Class VI & VII (earlier part of High School studies as Form one and two were detached, and one year PUC was in force from 1966-67 till 1971-72 for 6 academic years, till 2 years PUC introduced in the year 1972-73) were added in Maryknoll School, to elevate it to be 'Higher Primary School' and young Chooda Master was entrusted with still more responsibilities, both as 'Class teacher for VII' and teaching Math's to Class IV, Kannada, Class VI and all important Mathematics to VII, and from very next year Social studies, who were preparing for 'District level Public Exams'. All of us, as early teenagers, successfully crossed this milestone with the help and guidance of these teachers, especially Chooda Master, who used to come to the Exam Centre as guardian angel every day to look after his students. More than us, he was curious about results and always MHPS scored well at District level and his two subjects, rightly recorded 100% passing.  As one of his old students Marcel Andrade recollects, he still preserves a pen gifted by Chooda Sir, as relic, for scoring 100/100 in VII Public Exam – as this was the way he used to encourage students……..His table of Mathematics Formulas, latest updates on Political Science, like names of Cabinet Ministers, both State and Union, with their portfolios, chronology of Historical events with year and important personalities attached, basic Geography - a ready reckoner…….always a pleasant memory to his pupil. He had a distinct knack of teaching to make it more participative, interesting and entertaining. He arranged mock exams, and special concern for weak students and many a time arranged free tuitions to them. His valuation of answer papers were perfect and took pain and had patience to write the procedures and answers on these individual answer sheets, for the convenience of both bright and average children….We still remember, he was doing this 'correction work' sitting under a Street light…….He built up rapport with most of the parents, who believed in relationship needs affection not perfection, and shared the ongoing progress and concerns of individual students….At times, very rarely he lost his temper and for any wrong doings, his beating not using a stick, rough hand  horrified us and discipline in the class was the order but on playground he was altogether a different man….!!. We still remember next morning his remarks, 'making mistakes human, and if that makes one humble is better than an achievement that makes my students arrogant…...'
There are plenty of examples in Barkur wherein both parents and their children were taught by Chooda Master.
Son of the Soil, a hardworking modern Farmer: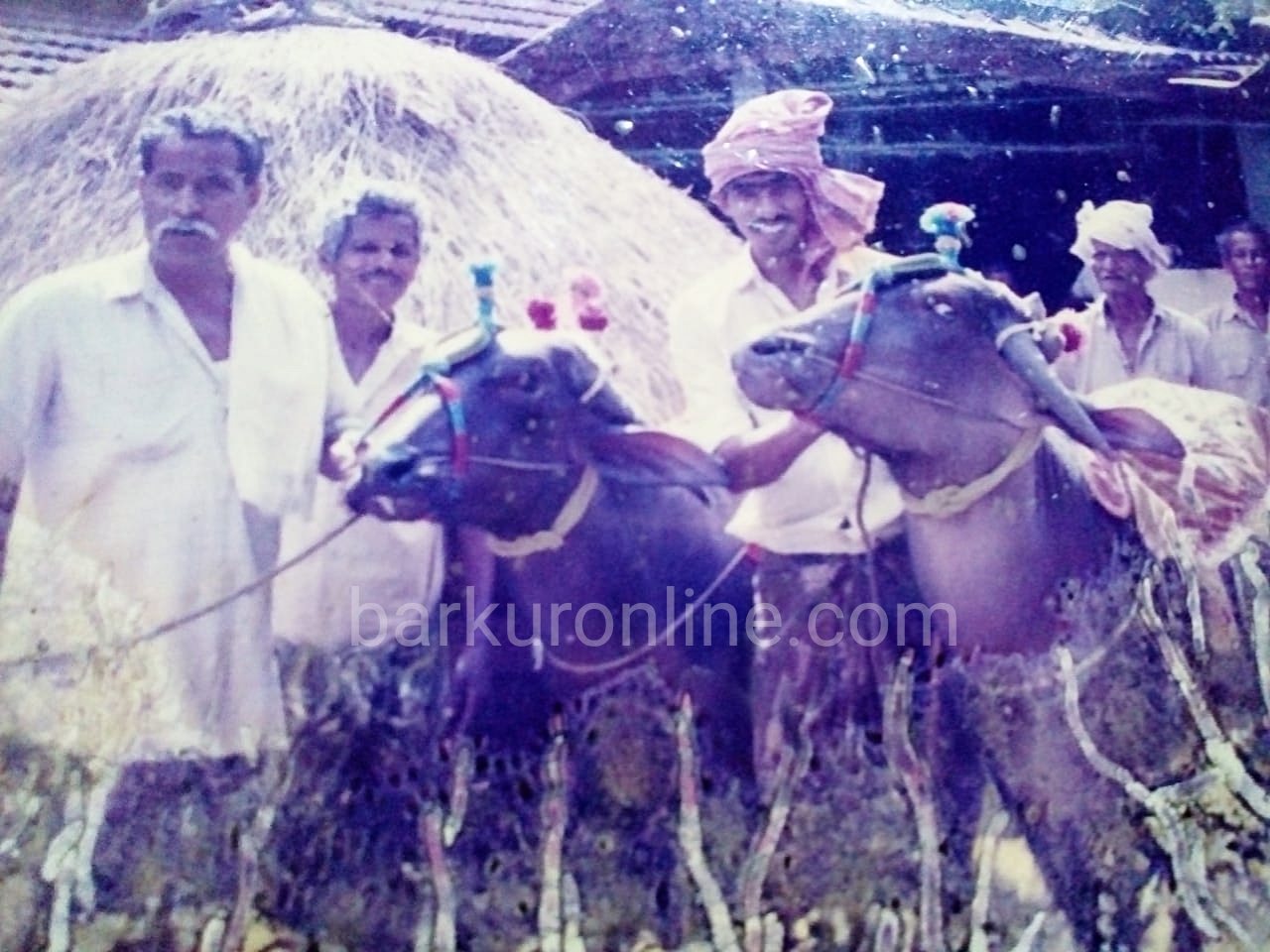 Living with a large joint family of his parents Late Rama & Mairy, had vast agricultural land, mostly as leased tenant, where they have to cultivate and pay to the landlord substantial part of the annual produce as rent. We have seen Chooda Master ploughing with his pet pair of fatty buffalos, well-known to be participants in Kambala. Many a time during season, he gets up as early as at 4.00 am and by 5.00 a.m. in the field till 8.30 and at stipulated time, 9.00 or 9.30 a.m. in the School for morning prayer…..Always an occupied man, even on holidays drove the bullock cart carrying manure to fields and rice, coconuts etc. to Mill.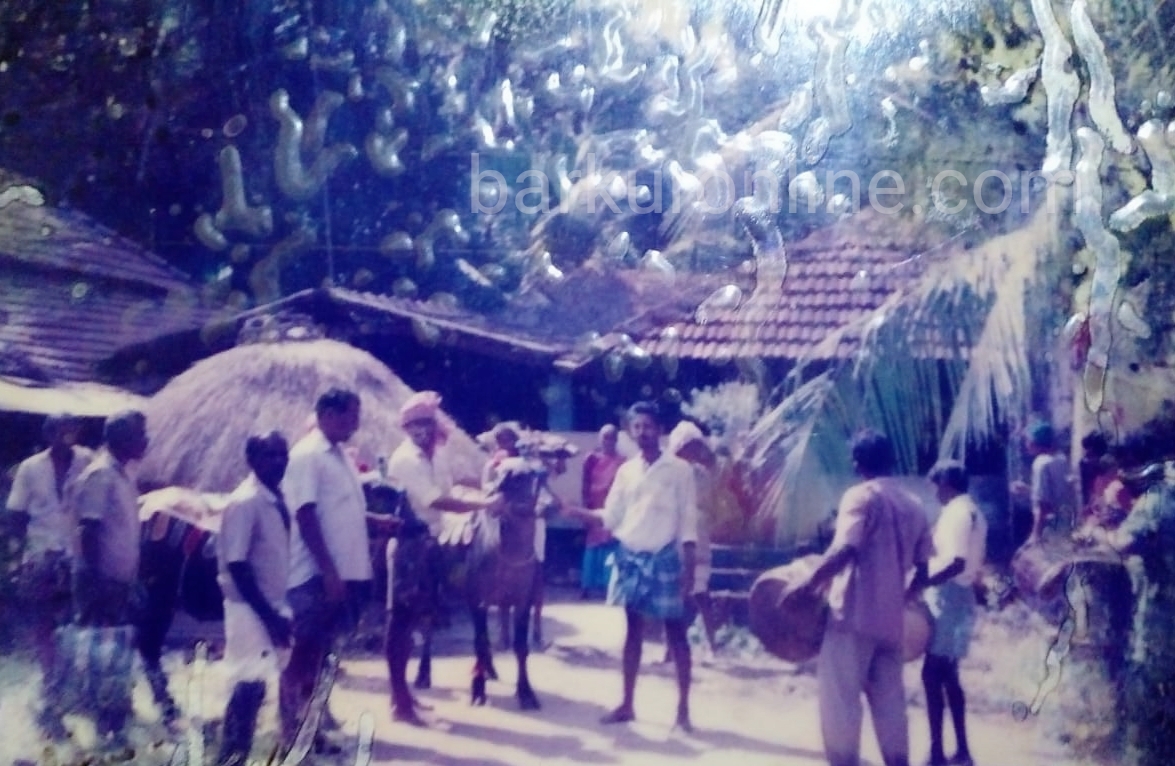 A man with multiple talents:
He was all in one, he was a trained Scout and Guides Tutor and MHPS had a Scouts unit for boys and later once Sr. Jane Paul joined, Bulbul for girls. He actively participated with team in taluk level Camps / parades in Udupi, Brahmmavar, Kota, Kaup etc. Chooda Master de-facto 'Physical Director' too, Cricket, Choco, Throw ball, Kabbadi was very dear to his heart. He trained many to be in athletics both on track and fields – Michael Sequeira, Peter Dias, Joseph Rodrigues, etc. are just few names who shined as Champions in Taluk level School Sports / Athletic Competitions and later in NJC…. He also served as refree in such events organized in the Hobali and in NJC Barkur.
An organizer par excellence:
Chooda Master used to speak fluently in Konkani too. He loved yakshagana – Bayalata, and had that superb talent of telling stories from epic Ramayana, Maha Bharata, Purana, local Stalla Mahatme etc. He was a fan of Dr. Rajkumar and his movies. If we know few of these stories, it's from Chooda Masters mouth, what a spectacular narrator…..!
There was a time, St. Peters Association, the CYM etc. used to organize Drama, movie show  both free and ticket shows – Chooda master had a special invitation with a chair, to look after and discipline children sitting front on ground, and he used to do the job happily. No special event like School Day, Sports Meet etc. was thought of without his involvement. He directed few dramas for students and organized plays like 'Sob ram Rustum' for fund raising, in association with MHPS old students.
For couple of terms he also served in Barkur Co-operative Society as Director, active member in Milk Federation, poultry farming union, etc.
In brief about Family: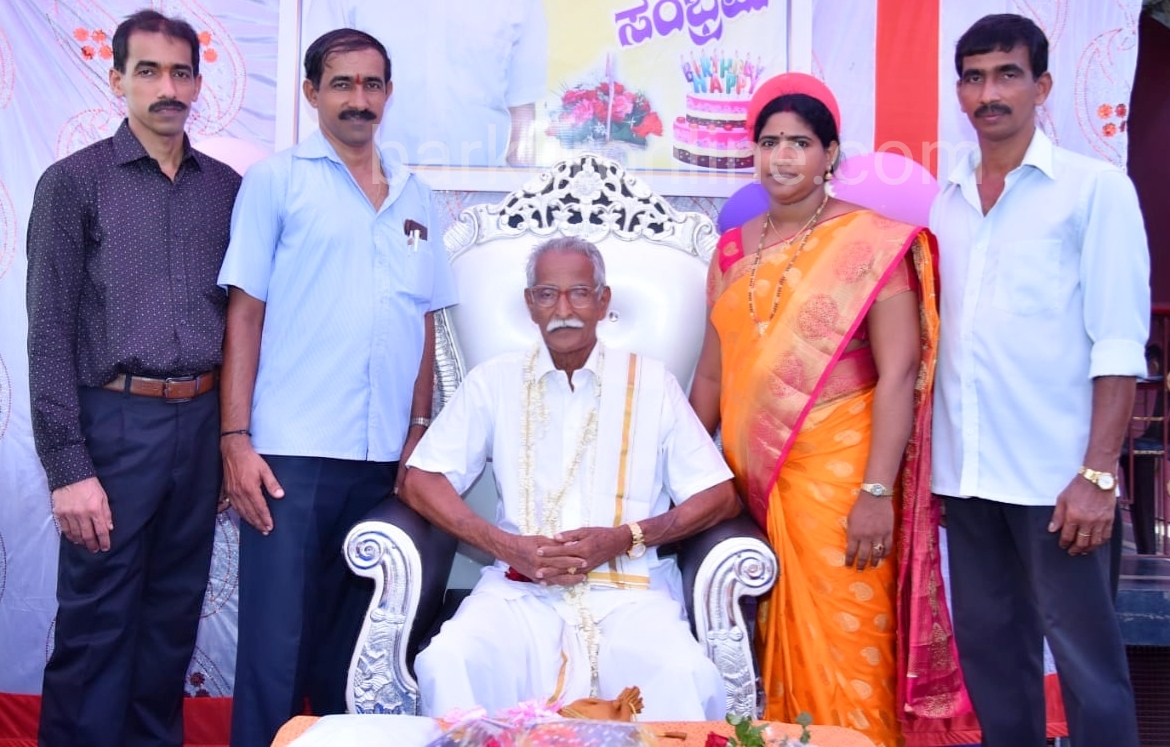 Chooda Sir married to Lalitha in the year 1967, again at a young age of just 23 and blessed with three talented sons Sridhar, Ashok, Ajith (twins) and a lone daughter Indira. All are well settled. Ashok is very much active in social fields – yoga is his passion and involved actively in Billava Association etc….At present Chooda Master residing with his daughter Indira, a professional teacher like father and fondly looked after and adored by grandchildren…..!! Nati-Koli curry (chicken-sukka with roti) dish was / is his favorite and still grows lot many types of vegetables in his garden….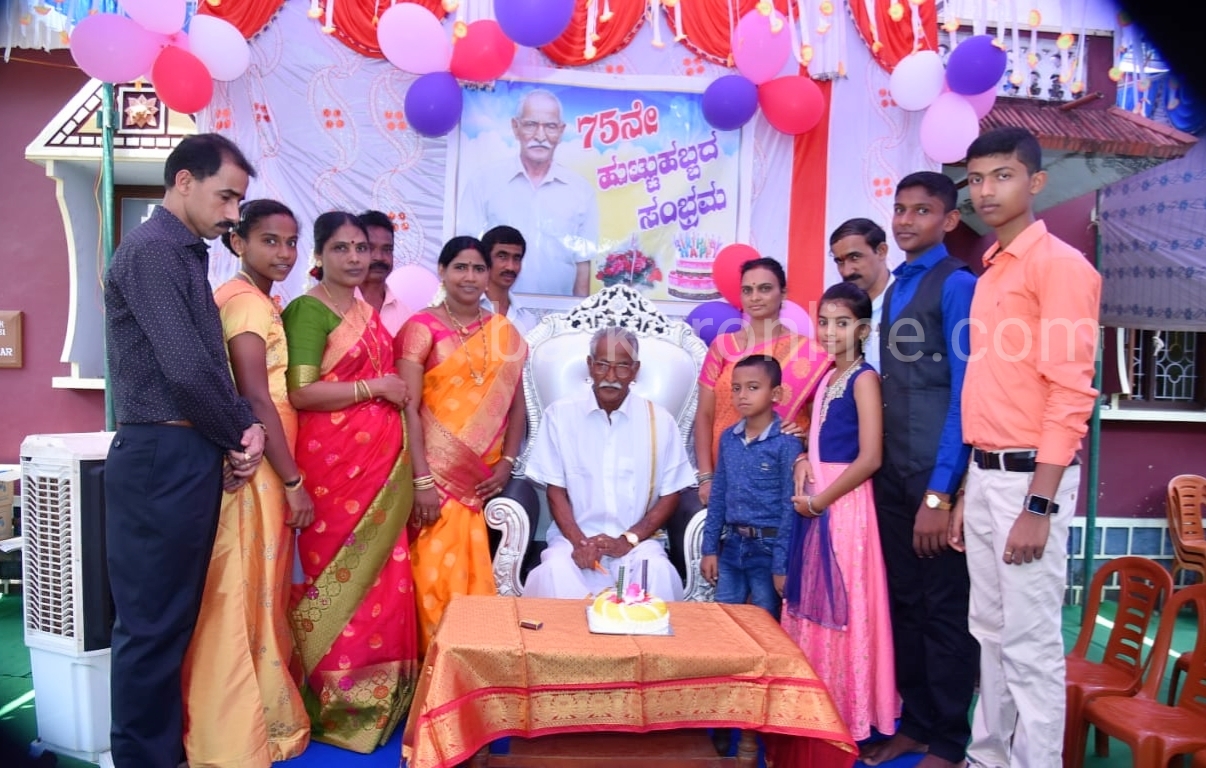 As a Retired Teacher:
After retirement also, Chooda master was very active and running a Rice Mill for some time. He will be completing 76 on 1st June, 2020. Except weakening eye sight, he is keeping a good health. In these days we are missing him driving his favorite Moped and two more companions a long shawl and a small bottle containing snuff….and enquiring whereabouts of his one time students, wherever he meets them  in Bank, Post Office, Bus Stand, Chanda's Soda shop…. etc. With his team regularly used to catch fish and crabs with petro-max, in his favorable river….Today of course everything spoiled by day light looters in the pretext of sand, which pains him….No one dares to get down even at day time, forget night….! After all life is all about moving on…accepting changes…and looking forward to what makes us stronger and complete…a life and living worthy for self, family and community we live in…..!!
Conclusion:
Chooda master probably the only one to serve 40 long years in MHPS and he was deservedly honored on 14th April, 2002 along with his wife on his retirement day in the august presence of then MLA, Shri. Jayaprakash Hegde and others. People and teachers like Chooda Sir are like street lights, along our roads, of course, they don't make the distance short, but they light up the path and made the walk easy and safe….! Sir, we, your students and well-wishers pray to Almighty Lord to bless you and your family with good health and peace of mind…..Greatest value of having great and good people like Chooda master around us is not for what we get from him / them today…but the better person we become just because of them, and that is the power of associating ourselves with him….A big thank you Sir…..!!
On behalf of Team Barkur-online,
P. Archibald Furtado,  
archibarkur@gmail.com Mobile: 98457 42750, 27th May, 2020.